Cosmetic creams are often homogenized and stabilized with conventional emulsifiers. These have the tendency to accumulate in the skin and at times wash out Substances of the skin itself (wash-out-effekt), which is the opposite of the desired qualities.

Most cosmetics also contain synthetic conservatives, mineral substances, and fragrances that possess a very high allergenic potential.

What's the alternative?
The magic word is DMS  (Derma Membrane Structure)

In this cream, only skin-friendly substances are used. Instead of emulsifiers, liposomes, produced from lecithin, are utilized.

Also the shell of these liposomes is one of the skin's properties. They have the capacity to replace non-functioning connective substances in the skin barrier, thus re-establishing the proper barrier function.



Corneo Therapy! What's that supposed to be?
Corneo therapy combines various areas..
skin analysis
cosmetic & dermatological products
basic preparations
skin protection & skin care
dermatological indications
scientific documentations
competent consultation
The skin undergoes a so called skin check (analysis), measuring the skin's fat, humidity, and elasticity with specific probes. According to the results, an optimal skin care concept is composed for the client. Besides, there are substances that are part of the skin or similar to its parts, which we prepare individually for our clients.


Mature skin:
The here presented concept, preventing premature aging of the skin, is based on the knowledge of corneo therapy.

Corneo therapy is a new field of action in the border region between dermatology and cosmetics; its goal is the long lasting stabilization of the skin barrier (stratum corneum).

The intact skin barrier protects the skin in totality from dehydration, entering of pathogens, allergens, irritations, radicals, and radiation. The protection causes inflammations and other skin problems to cease gradually, since the external triggers are being repelled by the intact skin barrier.

An example: Vitamin A, Vitamin C, Q10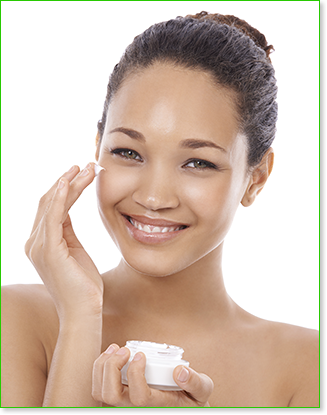 Skin care during puberty:
During puberty, an increase of hormone production is starting; in boys androgens dominate, in girls estrogens dominate. The changes in the hormonal balance have effects on the skin and on hair growth. Sebum and sweat production increase, body odors change, or are considered annoying. There is a new orientation in skin care, and the awareness of hygiene is growing. During this period, the main problems are mostly zits, skin blemishes, and acne.  
What do adolescents have to respect in skin care?
hygene - a prerequisite
nutrition, remedies etc.
make-up - breathable!
Example: Boswellia, Hamamelis, red clover